For the French version, click HERE.
After a 5-week trip in Indonesia (Bali, the Gili islands and Lombok), I thought it would be interesting to share a few addresses with you if Indonesia is next on your travel list!
Before all, let's talk about geography and culture! Bali is one of the 18,306 islands in the Indonesian archipelago (see map below), the largest in the world, including about 6,000 uninhabited islands. Only a third of these islands have a name!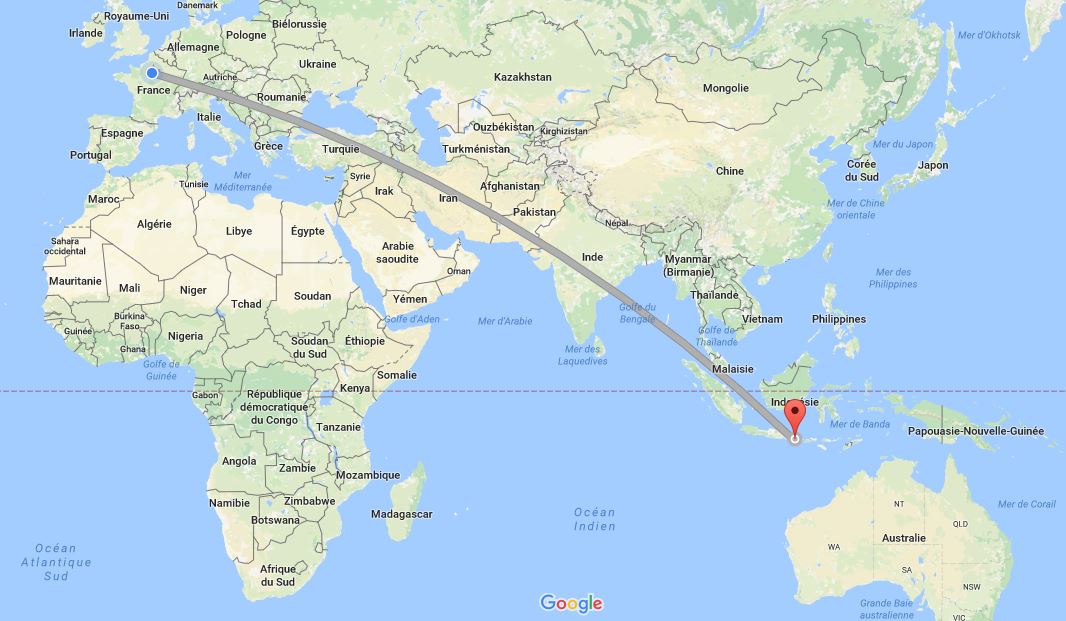 Source : Google Maps
Bali, also called « Island of the Gods », occupies an area of 5600 km2 and has several volcanoes, two of which are well known to tourists: Mount Batur culminating at 1717 m and Mount Agung culminating at 3031 m. The south of the island (on the Bukit Peninsula) is volcanic (there are many surf spots like Bingin Beach, Impossible, Padang Padang, Uluwatu). The southeast with Seminyak and Canggu also offers beautiful surf spots with long beaches (interesting to walk, but to quietly have a swim it's another story… Be prepare to wear your One piece bathing suit and expect to get « shaken » by the waves!). The center of the island is verdant and undulating (perfect for hiking!) And the north, with Lovina and Amed, is well suited for scuba diving and snorkeling. The climate is tropical, hot and humid. As for religions (for there is not one), they come together without any problem. Bali is mostly Hindu, and every moment of the day is a spectacle through traditional clothes, offerings, music, dances …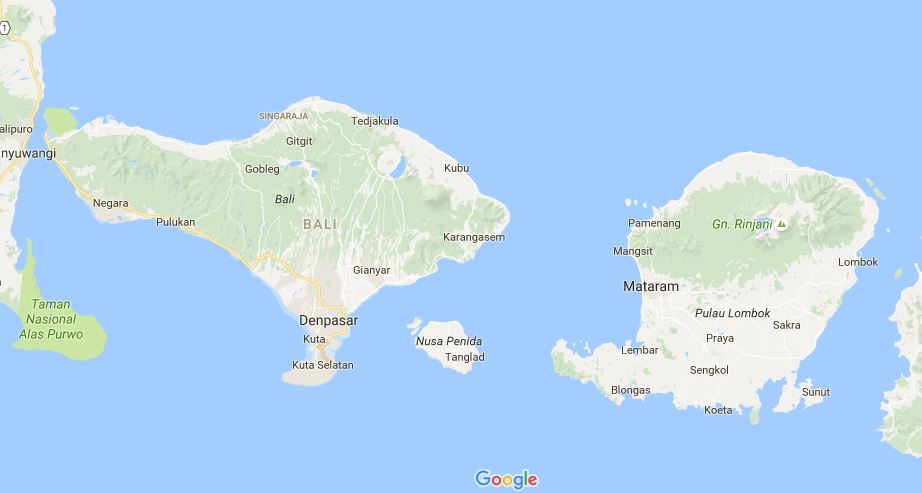 Source : Google Maps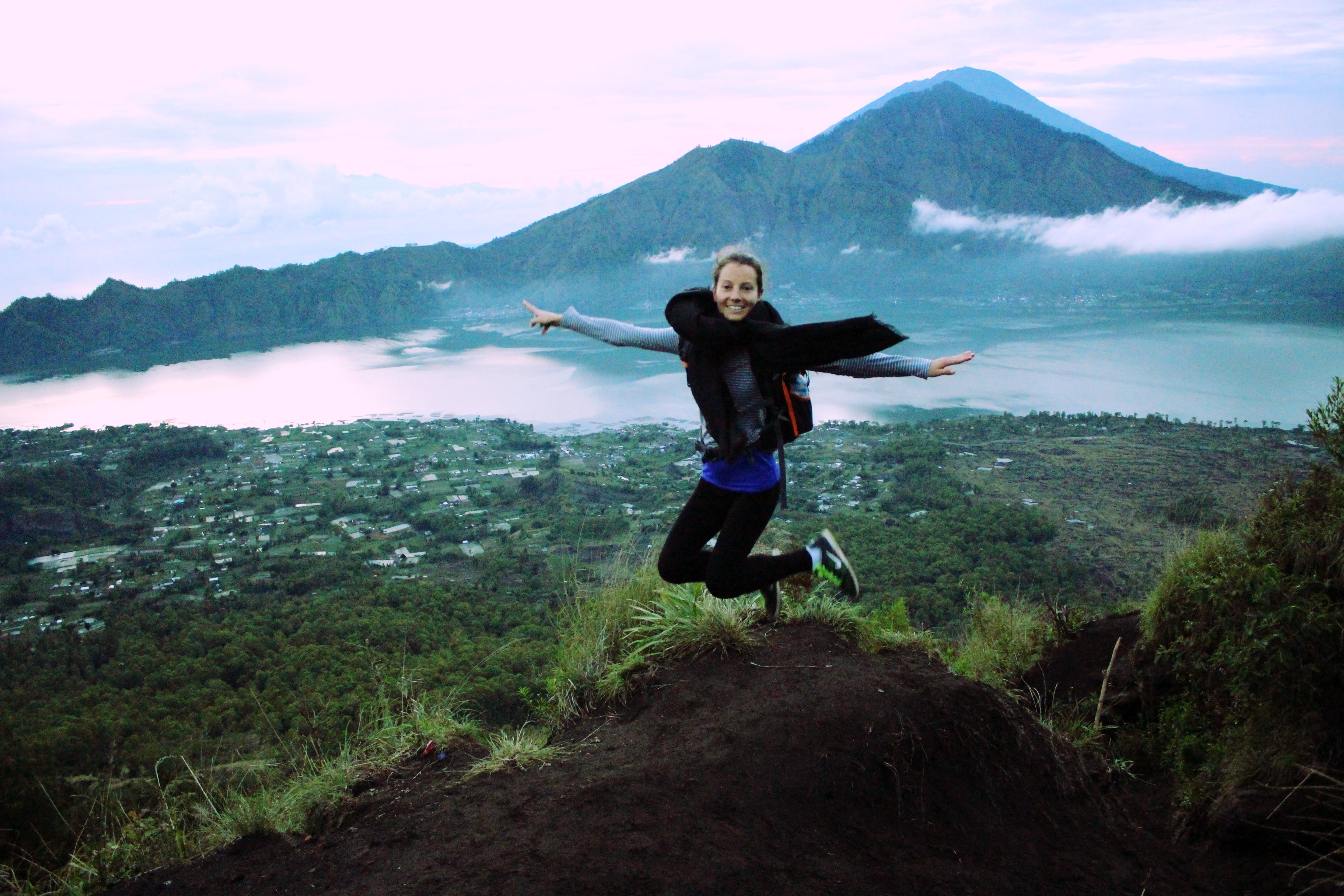 Mont Batur summit, Bali
« Don't wait for the perfect moment, take the moment and make it perfect. »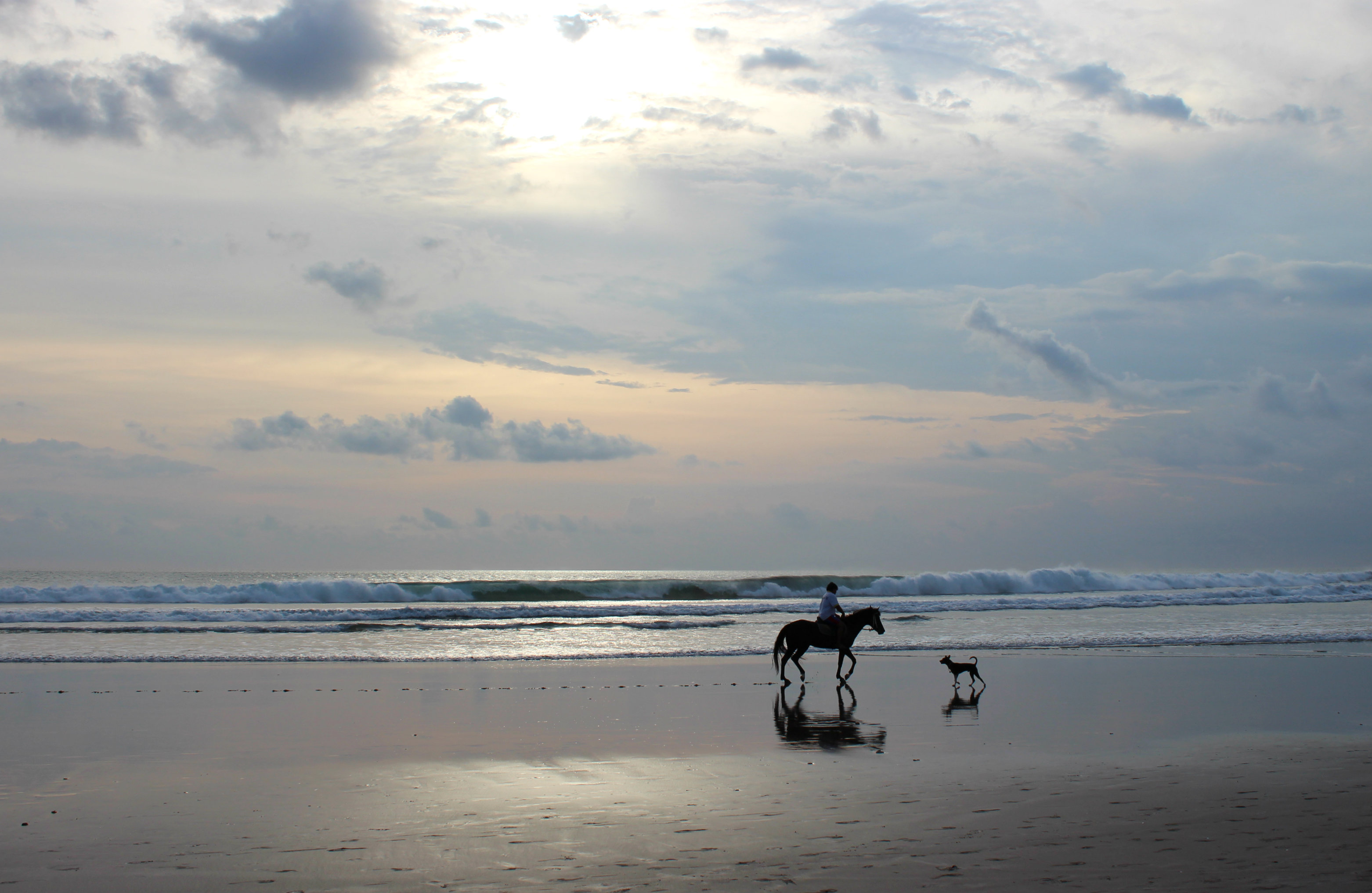 Seminyak Pantai, Bali
To the east of Bali lies Lombok with the Gili Islands. Gili means « island » in Indonesian, there are several Gili islands all around Lombok, but the 3 most known are north-west of Lombok: 1 / Gili Trawangan is nice for party people, it is a bit noisy. 2 / Gili Air, smaller, wilder, calmer. 3 / Gili Meno, if you want to play Robinson Crusoe! These 3 islands have the particularity to not have any motorbike or car, only bicycles, pedestrians or carriages drawn by horses on sandy soils / roads (the feet are always black! ). For those who have already traveled in Thailand and especially on Koh Phi Phi, it's a bit the same atmosphere: quite relaxing, with a village atmosphere, a mix between the greeny nature and the beach. There, you can see sublime beaches of white sands, shallow and so clear waters!! A real open-air aquarium to observe fish and turtles (even manta rays!).
If I had to recommend one of the 3 islands, it would be without any hesitation Gili Air: I fell in love! Much quieter than its neighbor Trawangan (where the majority of people come there to party, and where, in my humble opinion, the welcome is less warm and the island more dirty). Gili Air is also smaller, you can go around the island in 1 hour by foot, or in 30 minutes by running. Ideal for opening your appetite before having breakfast. The sun rises at 5h30-6h, so you should have an early walk / run at that time as the temperature is getting already really warm by 7am. You're going to tell me, « It's wayyyyy too early! We're on holiday, a little indulgence!« . Don't be afraid, the imam will wake you up at 4:25 am with the prayer in the loudspeakers. On the Gili Islands, as on Lombok and the majority of Indonesia, the predominant religion is the Muslim religion. It is an ideal island for couples and families.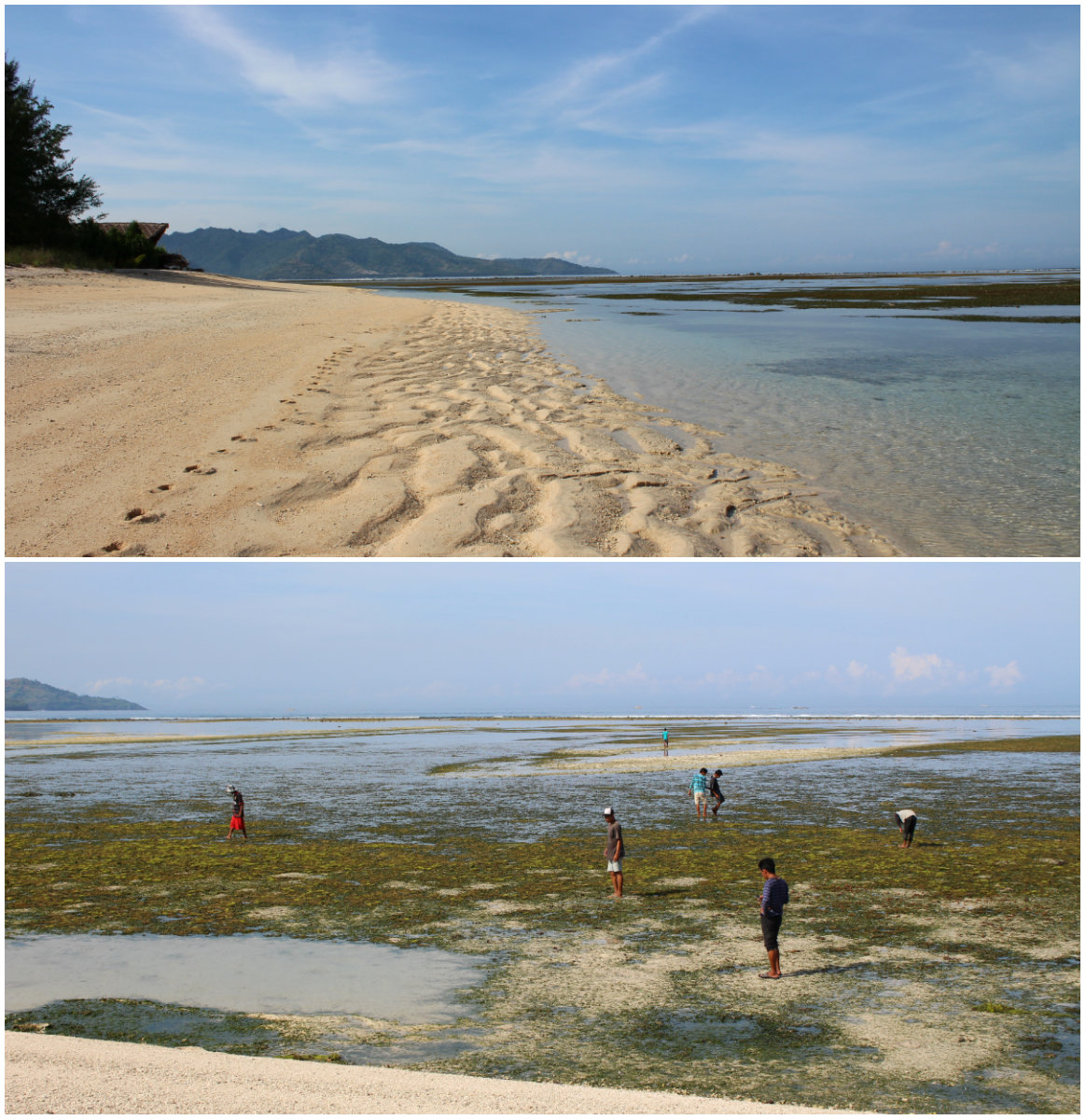 Gili Air, low tide, 6:00 am
Let's talk about Lombok. Lombok means « chili » in Indonesian. This neighboring island of Bali is almost similar in size (respectively 5300 km2 and 5600 km2). It is home to several volcanoes including the famous Mount Rinjani (3726m) which can be climbed by doing a several-day trek (usually 3 days, 2 nights) and observe a magnificent view of its lakes at sunrise (see photos below). I really wanted to do this trek but I reserve it for a next time, because I did not see myself doing it all alone, I like sharing my impressions with another traveler that I personally know!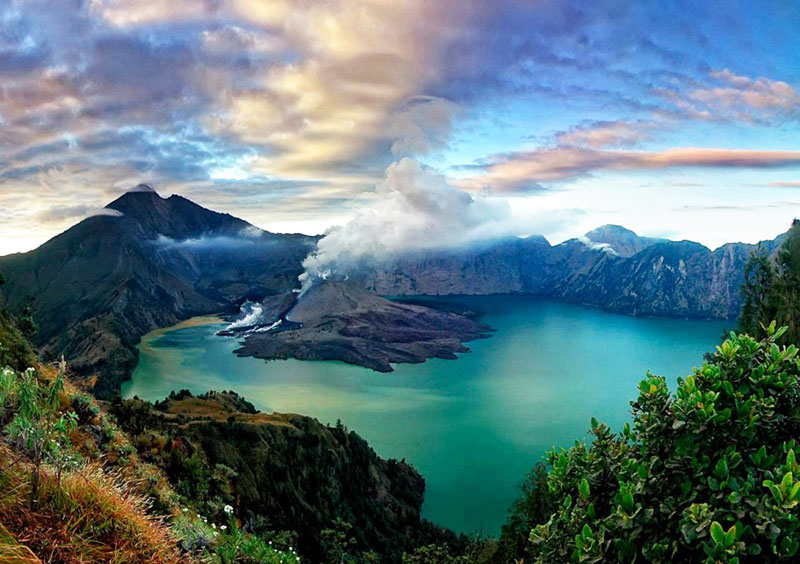 The north of the island is very green, with a majority of rainforest. As for the south, it is rather arid. There is plenty of fruits: papaya, mango, pineapple, dragon fruit, avocado, coconut, bananas*, rice, but also corn, soy, tomatoes, peanut, peppers and onions.
(*I have discovered the green bananas (which are not found in France) and contrary to the idea I had of them, they are very ripe and well sweet!)
First stop

Ubud, cultural capital of Bali located in the heart of the island, is a city in full swing. In the space of 3-4 years, the city has metamorphosed (according to the statements of several travelers that I had the opportunity to meet) to accommodate more and more tourists. It has a special atmosphere, but it feels very good, like home, and the climate is pleasant. The advantage of the city is its central location on the island, so many day trips can be made from Ubud. If you ever want to get away from the hustle and bustle without going on an excursion, it is possible ! You just have to take a few minutes' walk and you are into the rice fields, and you can wander around by long paths. However, there is no beach, and it would not be unpleasant to have a refreshing swim with this heat, so I recommend finding a homestay / ghest house or hotel if you prefer with a pool.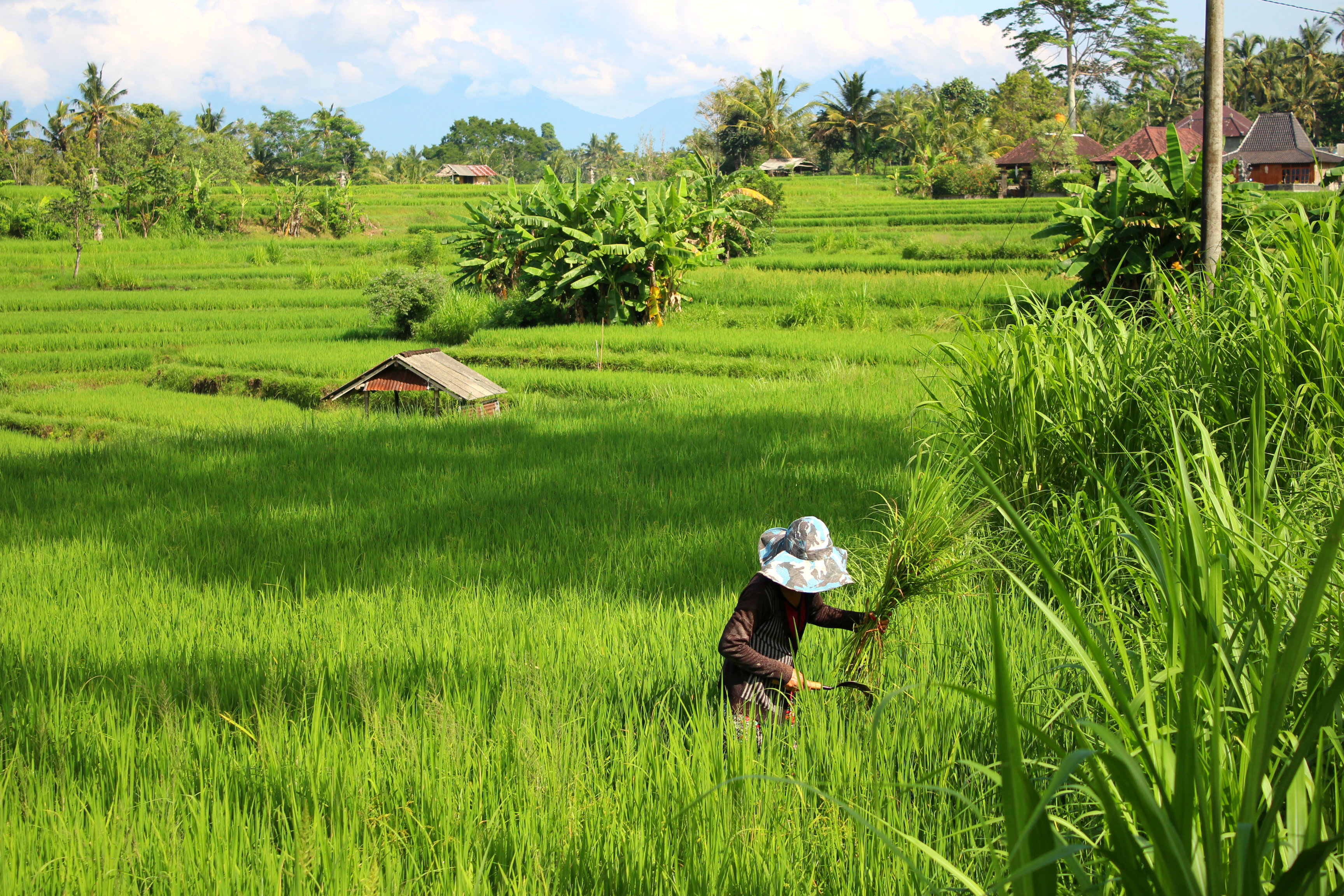 Rice fields, Ubud, Bali
What to do in Ubud ?
Eating well (it is a paradise to eat healthy and delicious food!)
Doing some yoga
Relaxing and taking care of your body (Balinese massage, reflexology, manicure, pedicure, etc.)
Going to see Monkeys at the Monkey Forest
Walking to the bridge and the crest of Campuhan to see the rice fields
Going to the Ubud Market in the morning at 5:30-6:00 am to attend the real market where the locals do their daily shopping and be able to observe a nice spectacle (almost no tourists present at this hour!)
Attending a Balinese dance show (there are many dances, for my part I attended a Kecak dance (pronounced Ketchak) where music and rhythm do not come out of instruments but from the voice of the singers / dancers. These rhythmic vocal percussions allow them to go into trance. They are sit on the floor in a circle, and the center hosts the play, which is usually always the same story: monkeys help prince Rama, mythical king of 'Anthic India, to beat the demon Ravana, king of ancient Sri Lanka, to recover his wife Sītā kidnapped by the latter, for they sing uninterruptedly the distinctive « chak-a-chak-a-chak » Movements synchronized around the different protagonists of the history. The climax of the accompaniment that goes crescendo coincides with the victory during the fight.
Here are some excursions (1-day trip) that can be made from Ubud:
Climbing the Mount Batur to see the sunrise at the top. This hike can done quite easily. If possible, wear hiking shoes or at least sneakers that do not slip (exit the last trendy Nike sneakers with the smooth sole!). Going uphill is not complicated, but when it comes to going down, it's another story! I also recommend the frontal light (more practical than the flashlight that the guides provide, because it allows for a free hand to cling to the rocks if necessary).
Climbing the Mount Agung (more difficult, longer than Mount Batur, and more chilly at the top) to see the sunrise from the summit. You have to register at least 2 people (I know because having wanted to do it, I was constantly refused registration as a solo traveler). Hiking shoes are essential here. I will recommend the frontal light as well.
Tirta Empul (meaning « sacred spring » in Balinese): Hindu temple located between Ubud and Mount Batur in the center of Bali, in the village of Tampaksiring. The picture below on the left represents the source (which in history would be a source that would have given life back to poisoned dead soldiers), which then goes into sacred basins (3 in number) via fountains. The first basin serves to purify the body and contains 13 different fountains (each aiming to purify a specific body part). The atmosphere which reigns in this place is quite unique, one feels an inexplicable calm. It is also very interesting to see the Balinese perform the ritual of purification (which is dear to them). It is possible to participate in the rite and learn the meaning of each fountain, so it is advisable to come early in the morning (8 am-8.30 am).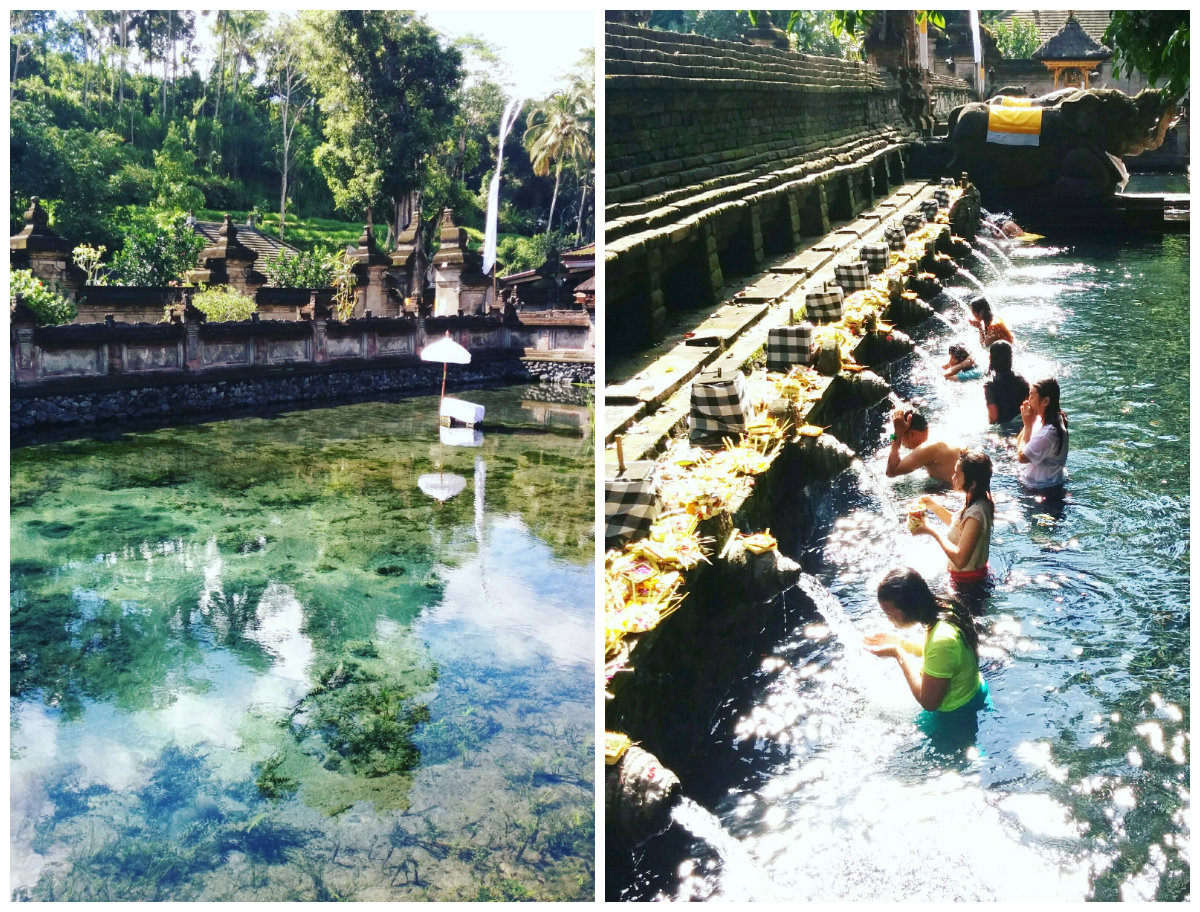 Tirta Empul, Bali
Gunung Kawi temple (close to Tirta Empul, to be done in the same day): sacred site also present in the city of Tampaksiring. We descend 400 steps of stone before arriving at the bottom where it is full of rice fields, magnificent green trees, a river between rocks, carved cliffs containing like kinds of hotel (probably intended for past rites). It is certainly hot down there but the view is totally worth it!
Note that in the temples you have to respect some dress code to get in: the wearing of the sarong (kind of large pareo) is obligatory (around the waist to cover the legs, there is a different way of attaching it to men and women). Above sarong, the waist is bordered by a belt. Moreover, women having their menstruation are forbidden to enter in the temple! (Yet this is a monthly period during which the woman is just detoxifying, eliminating toxins, so this would be the best time to go to the temples in my opinion to support this natural cleansing!)
Tegenungan waterfalls (7 km south Ubud, to be done in the same day as the 2 previous visits): easily accessible waterfall in the village of Kemenuh. After a descent of a hundred steps (quite « vertical » that will have to go up under really warm temperature!), you reach the waterfall. You can swim and also go around it too to reach the top. It's very nice, but quite touristy.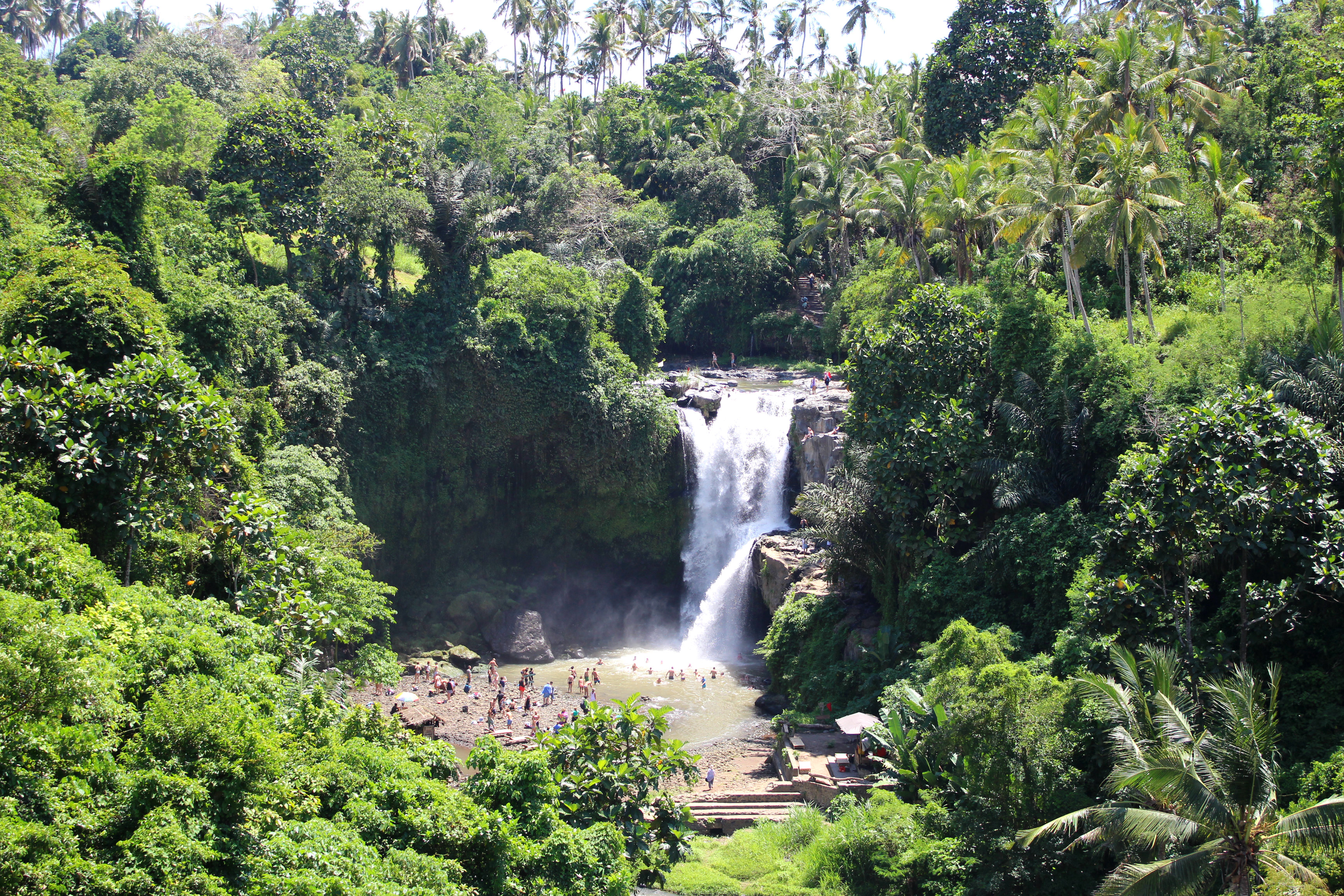 Tegenungan waterfalls, Bali
For further excursions: Lake Bratan and Pura Ulun Danu Beratan, Banjar, Jatiluwih, North Bali with Lovina and Amed for snorkeling, scuba diving and boat trips to see dolphins (the best season is in December), Bukit peninsula and Uluwatu in the south of the island.
Regarding accommodation, you will have no problem to find a place to stay! Just for information, my homestay was very nice at a very affordable price (contact them directly to avoid extra costs from Booking or Airbnb) with sooo yummy and of quality fruits for breakfast (there were also vegan banana pancakes for the gourmands around there, I reassure you!). Each room has a private terrace and the hosts are so kind and helpful! Located in the heart of Ubud (next to superb restaurants that you will discover via this article, including The Seeds Of Life) but without any noise! The only downside is that there is no pool. But apparently, the owners have a second homestay with a swimming pool but further away from the heart of the city. It is called Green Garden, the rooms are at 250 k IDR for 2 people (18 euros), 200 k IDR for one person (if you stay for a long time, you can try to negotiate the price, I had managed to get my two last nights at 170 k IDR each). Here is the website: http://www.dartagreengarden.com. They are also on Booking and Airbnb.
Where to do Yoga in Ubud ?
Where to eat in Ubud ?

Source : http://www.instagram.com/alchemybali/

Source : http://www.instagram.com/clearcafeubud/
Atman Kafé

(vegetarian, vegan, raw food options available): Facebook. Hours: 7 am – 10:30 pm.
Down to earth (vegetarian, vegan, raw food options available, organic shop and movie theater): http://www.dtebali.com. Hours: 7 am – 10 pm.
Bali Buda café (vegetarian, vegan, raw food options available, organic shop): http://www.balibuda.com/. Hours: 7 am – 10 pm.

Source : http://www.instagram.com/balibuda/
Tukies café

(shop only dedicated to coconut: their specialty, vegan coconut ice cream! You can drink fresh coconut water just as everywhere in Ubud. Don't forget to ask to cut your coconut in half once you have drunk the water, in order to eat the delicious and young coconut flesh available inside!)

Moksa Ubud

(vegan restaurant, raw food options available, permaculture farm):

http://moksaubud.com/

. Open from Tuesday to Sunday from 10 am to 9 pm. Closed on Mondays.

Source : http://www.instagram.com/moksaubud/
Garden Kafé by The Yoga Barn (vegetarian, vegan, raw food options available): http://www.theyogabarn.com/healingfoods. Hours: 7:30 am – 7 pm.
Sari Organik (vegetarian, vegan, raw food options available, organic products to shop from their organic farm) –

in the middle of the rice fields, to be done for the view!

Source : http://www.instagram.com/
Biah Biah (warung with typical indonesian food, yummy and sheap) : more information on TripAdvisor.
Note that some restaurants, the majority in fact, do not include service and government taxes in prices. Always look at the bottom of the menu to see if it is specified « All prices exclude / include 10% government tax and 6% service ».
I hope this first article on Indonesia pleased you. To be continued, Seminyak and Canggu, Bigin, Kuta Lombok.